A visit to Autodesk's Headquarters
Our secret spot today lies inside the corporate office of a well-known company- Autodesk. Located at San Francisco's Embarcadero, Autodesk hosts a stunning design gallery open to the public at no cost.
The Free AutoDesk Gallery
Autodesk uses this gallery to exhibit the cutting edge work its clients has designed using AutoCAD. The room showcases works such as bridges, futuristic cars, cutting edge jet engines, and even three dimensional protein structures. Come to this secret spot to get a glimpse of the future.
CAD isn't just used to design fancy cars like Ferrari. Innovators also use Autodesk for visual effects. For the last two decades, nearly all Academy Award winners and nominees in the Special Effects category have used Autodesk tools.
Although these engineering marvels are pleasant to observe, Autodesk has a second agenda for this gallery. They want to show its visitors that anyone can design. They want to reveal that their tools are not just for engineers or companies like Mercedes. AutoCAD is within the reach of every day folks like you and me. Autodesk drives this message home by providing free workshops where you can learn CAD inside the gallery.
The workshop is taught by Mike, an aerospace engineer with a love for industrial design and 3D printing. Mike and I spent an hour going over the basics of TinkerCAD. We created simple objects out of functional building blocks, sort of like Legos. By the end of our session, I had printed a small block with my name on it.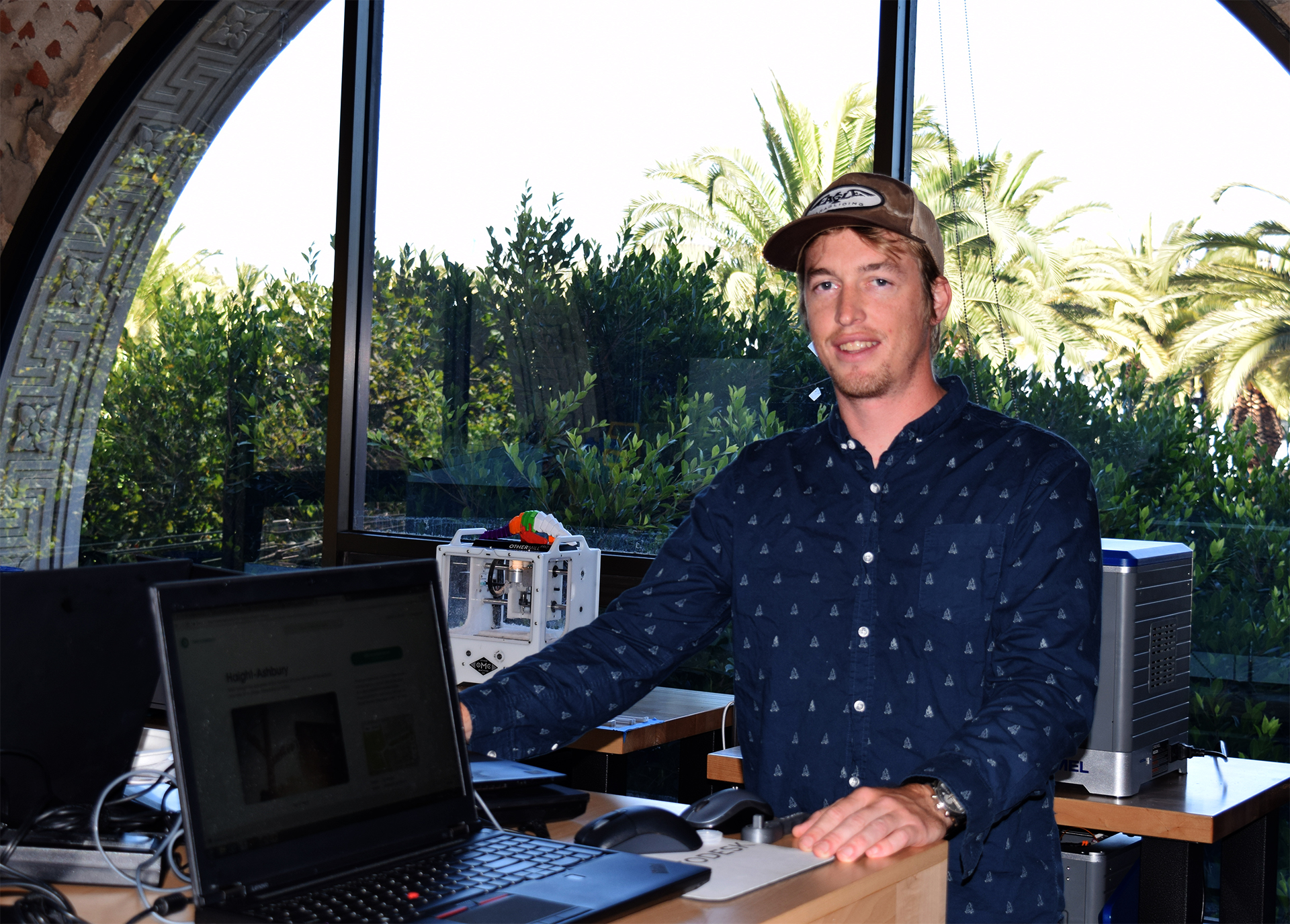 Mike was my TinkerCAD instructor. You can come learn CAD from Mike every Wednesday at 1pm
My visit to Autodesk was not what I expected. The gallery was so spotless and well polished that I was slightly intimidated when I first walked in. I was surrounded by gorgeous designs and engineering precision which initially were unnerving. But as I interacted with the staff, I began to relax because everyone was so friendly and approachable. I was at ease amidst the seemingly formal and esoteric gallery.
What particularly struck me about Autodesk was their generosity. One of the employees caught me absorbed in one of their design books. He casually walked up to me and said the book was mine to keep. I was floored by this beautiful gesture.
AutoDesk host design parties
On the note of generosity, Autodesk regularly hosts design parties where they provide food and an open bar for you to socialize with other local innovators. You can check out upcoming events here. They also have programs where they train locals in computer modeling and 3D printing. Autodesk not only trains people, they pay them to do so! Residents of the program receive a stipend of $2,500 a month during training. If that's not generous, then I don't know what is.
Training programs such as the one hosted by Autodesk adds tremendous value to the community. Many people want to see a revival of manufacturing in this country. However, what they don't realize is that this comeback will come in a different form. It will not be large factories that will bring local industry back in the U.S. The manufacturing revolution will come from everyday people innovating out of necessity. Training people in CAD allows this revolution to take place seamlessly. People will print useful tools and materials that will raise our standard living beyond what we even thought possible. No research lab, no billions in funding- just bold innovators using CAD applications.
As parting word, I want to commend Autodesk for their humility. The first asset of tech companies are their human capital. Therefore, the staff at a high-class software company like Autodesk have to be very intelligent. Yet no one that I came across at Autodesk seemed snobby. Everyone remained relatable. Intelligence can be intimidating at times, but Autodesk found ways of keeping its company approachable to modest locals such as myself. Bravo to Autodesk for caring and opening its doors to the community- you are giving tech entrepreneurs something to aspire to. For more cool spots like the AutoDesk Gallery, sign up for CityXcape, the app to find secret spots.